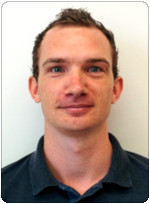 Personal information
Full name
Age
Nationality
Residence

Asger Bjørn Jørgensen
30 years
Danish
Aalborg, Denmark
Education
Aalborg University, Denmark

2016-2019


Doctor of Philosophy (PhD)
Aalborg University, Denmark

2014-2016


Master of Science, Energy Engineering
/w specialization in Power Electronics and Drives
University of New South Wales, Australia

Jul-Nov 2015


Visiting Scholar
Postgraduate coursework as part of Master studies
Aalborg University, Denmark

2011-2014


Bachelor of Science, Energy Engineering
/w specialization in Electrical Energy
Tradium HTX Randers, Denmark

2008-2011


Highschool
Mathematics & Physics
Experience
AAU Energy, Aalborg University

Sep 2021 - present


Assistant Professor

Head of Center of Digitalized Electronics (CODE).
Research in digital design methodologies for power electronics using wide band gap devices.
Digital product qualification, finite element analysis, optimization, digital twins.

AAU Energy, Aalborg University

Aug 2019 - Aug 2021


Postdoctoral researcher

Power module packaging, finite element method simulations & circuit modelling.
Designing power electronics utilizing wide bandgap power semiconductor devices.

AAU Energy, Aalborg University

Aug 2016 - Jul 2019


PhD Fellow

Packaging of wide bandgap power semiconductors using simulation-based design

North Carolina State University

Sep 2018 - Dec 2018


Visiting researcher


Packaging research at the FREEDM Systems Center and PREES Lab

AAU Energy, Aalborg University

May 2014 - Oct 2014


Student employee, Assistant Academic Advisor

Presenting topics of renewable energy to elementary & high school classes.
Supervision of laboratory experiments on power consumption and efficiency.

Science Camp 2011 at Tradium HTX

Apr 2011


Assistant teacher

Teaching elementary school students in basic programming and microelectronics.
Assisting in building simple PCBs in EAGLE and programming PIC16F88's in Flowcode.